Get Your Ford Car, SUV, or Truck Serviced at Brannon Motor Company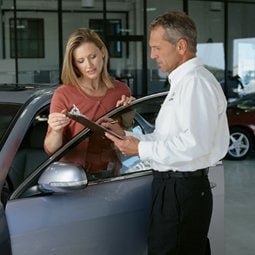 Finding the right Ford vehicle for your needs is important, but what's equally worthwhile to do is to get a service center near Unadilla, GA that can ensure that your vehicle runs well for a long time to come. At our Ford dealership in Albany, GA, we have a team of certified service technicians who are trained to provide you with all of the maintenance and major repairs that your vehicle needs.
Maintenance Services We Provide from Perry, GA
Get your oil changes, transmission flushes, and more done at our Ford service center near Americus. Some other popular maintenance services include battery checks and replacements, headlight changes, tire rotations and replacements, filter replacements, and more.
Major Repair Services
We also do major repair services, such as replacing the serpentine belt, doing transmission and engine work, fixing wheel bearings, doing brake replacements, and more.
What To Expect From Our Auto Techs
We have professional automotive technicians who are invested in helping you get the services that you need when you need them. They'll also let you know what kinds of maintenance and repairs might be coming up for your vehicle so that you can plan ahead. And they'll explain to you exactly what's going on with your vehicle so that you're never in the dark about where your money is going. They can even help you learn more about simple ways that you can maintain your vehicle, such as by keeping the tires full.
Schedule Your Services Online
While we want you to feel free to bring your vehicle to our dealership near Fort Valley in an emergency, if you know ahead of time that you need a maintenance or repair service that's not an emergency, we want you to schedule that appointment online ahead of time. Make sure to check our money-saving Ford service coupons. This is the best way to ensure that we can get your vehicle in and out of our auto service center as quickly as possible and that you can get back on the road near Columbus, GA, soon.